Tesco takes talk to market
Brit supermarket giant continues push into entertainment
By STEVE CLARKE
Actor Leslie Phillips gabs with musician Robin Gibb in 'Living the Dream,' part of U.K. supermarket giant Tesco's push into entertainment.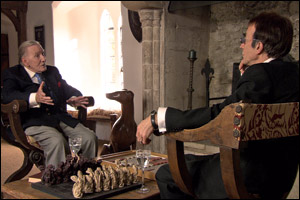 LONDON — Innovative business models in TV are rare, but a fledgling U.K. show that claims to offer a twist on the celebrity interview suggests marketing possibilities involving VOD and the world of retail."Living the Dream," which bowed Nov. 6 on satcaster channel Sky Arts, pairs celebrities to talk with each other about their private lives — the idea being that two celebs chewing the fat with each other is likely to result in a more honest and uninhibited exchange than the usual chatshow interview.
"These are frank discussions between two equals," says Rosemary Reed Wells, creative director for Back Door Prods., who conceived the series. "Most interview-based TV shows occur because the celebrity has a book to plug or a film to promote. Piers Morgan is very good at making people cry but when he interviews a celebrity, he is not their equal, and that inhibits what his interviewees tell him."
Better known for making features, Back Door fully funded the 10 hourlong segs — its first foray into TV — selling DVD and digital rights to British supermarket giant Tesco, one of the largest retailers in the world.
In January 2010, Tesco's desire to move beyond being a mere retailer of entertainment led to an alliance with U.S. media firm Amber Entertainment to produce straight-to-DVD movies to sell exclusively in its supermarkets.
Earlier this year, Tesco revealed the extent of its digital ambitions by buying a majority stake in the U.K. VOD website, Blinkbox, for an undisclosed sum — echoing Walmart's purchase of Vudu.
With the DVD market in steep decline, the synergies between the supermarket's home entertainment activities and owning a digital platform are clear, as consumers migrate from discs to downloads and streaming.
When "Living the Dream" ends its pay TV run on Sky Arts in late January, Blinkbox users will have a two-week window to download the show before a box set, containing the 10-part series plus four exclusive episodes, is sold only in British Tesco stores. A book of the series will be available exclusively at Tesco.
"Normally I say no to everything," says Rob Salter, Tesco's category director, entertainment and media. "But when I saw the pilot for 'Living the Dream' (an encounter between Brit actor Stephen Fry and ex-Rolling Stone Bill Wyman) I was struck by what an interesting idea it was. Usually a celebrity is interviewed on TV by a journalist. This show creates a very different dynamic (that's) a little bit voyeuristic, but very revealing."
How revealing remains to be seen, but the Fry and Wyman discussion, while somewhat narcissistic, provided some entertaining insights into these two very different entertainers even as it covered well-trod ground.
As for casting the right celebs, Reed Wells, who co-produces the show with Caroline de Wolfe, says Tesco "wanted to make sure the participants were right for the kind of people who shop at Tesco."
Others featured in the series include British broadcaster-writer Melvyn Bragg with actress Joanna Lumley; Pink Floyd drummer Nick Mason and Jeremy Clarkson, host of the BBC's "Top Gear"; and artist Peter Black and helmer Ken Russell.
Talks are under way to adapt the format for the U.S. and Australia, and Back Door is seeking a distributor to sell the finished show internationally.
A second U.K. season has been greenlit, with celebs apparently lining up to sign on.
Meanwhile, if the digital and DVD windows are successful, Salter is likely to consider investing in other TV shows to drive Blinkbox and boost Tesco's home entertainment biz.
Read the original article here